Click here to donate on our Just Giving page.
A FEW WORDS FROM CHRIS MILLS THE RICHMOND RUGBY CLUB's PRESIDENT ABOUT THE 2.6 CHALLENGE
__________
I wanted to take this opportunity to thank so many of you, for an exceptional achievement on Sunday 26th April. On a weekend which would have seen our last game of the season it was great to stay in touch during this tricky time. To me it simply showed the club in its best light. With almost 400 of you coming together at short notice to give up your time and contribute and be part of something magical.
I have seen pictures and videos of members and players of all ages and shapes and sizes, in a bright spring blur of old gold, red and black. These have included mums, dads, brothers and sisters, neighbours and dogs and an insight into your lockdown lives and homes. It has been truly inspirational.
It would be unfair to single out any one or any age group, because each press up, sit up, throw of a ball or mile cycled or run is as equal as the next. Please do find a way to share your images and video, amongst the wider community.
As well as having fun, connecting and raising money for a good cause, we also wanted to raise awareness of the Mental Wellbeing programme we have established for all members. If you have not seen the details, please CLICK HERE.
It would be amiss not to offer my thanks to those members of The Heavies who helped organise the Richmond 2.6 Challenge. Chapeau. And also to the Club's S&C partners, Arete Performance, who provided guidance on the exercises to ensure the challenge was truly inclusive to all, which it was.
I know for many your competitive juices run deep – validated by hearing of some of the banter both amongst and between different teams – and the scores will be shared with each team but let me share with you some headline numbers:
A staggering 313,400 reps were achieved – over 12 marathons!
Over 400 people took part from all over the world including the USA, Bermuda, the Middle East and Australia.
We have raised over £6,750 (and rising) for the wonderful Mind – Mental Health Charity.
Thank you!
And if you wish to make a donation the link is still open: PLEASE CLICK HERE
Please stay match fit, both physically and mentally, and I look forward to seeing you all soon.
Chris Mills
President of Richmond Rugby
PS – I may be regretting my sit ups – I have renewed respect for you players…
_________
Congratulations to all teams who entered the 2.6 Challenge
Please find below the 2.6 Challenge Scoreboard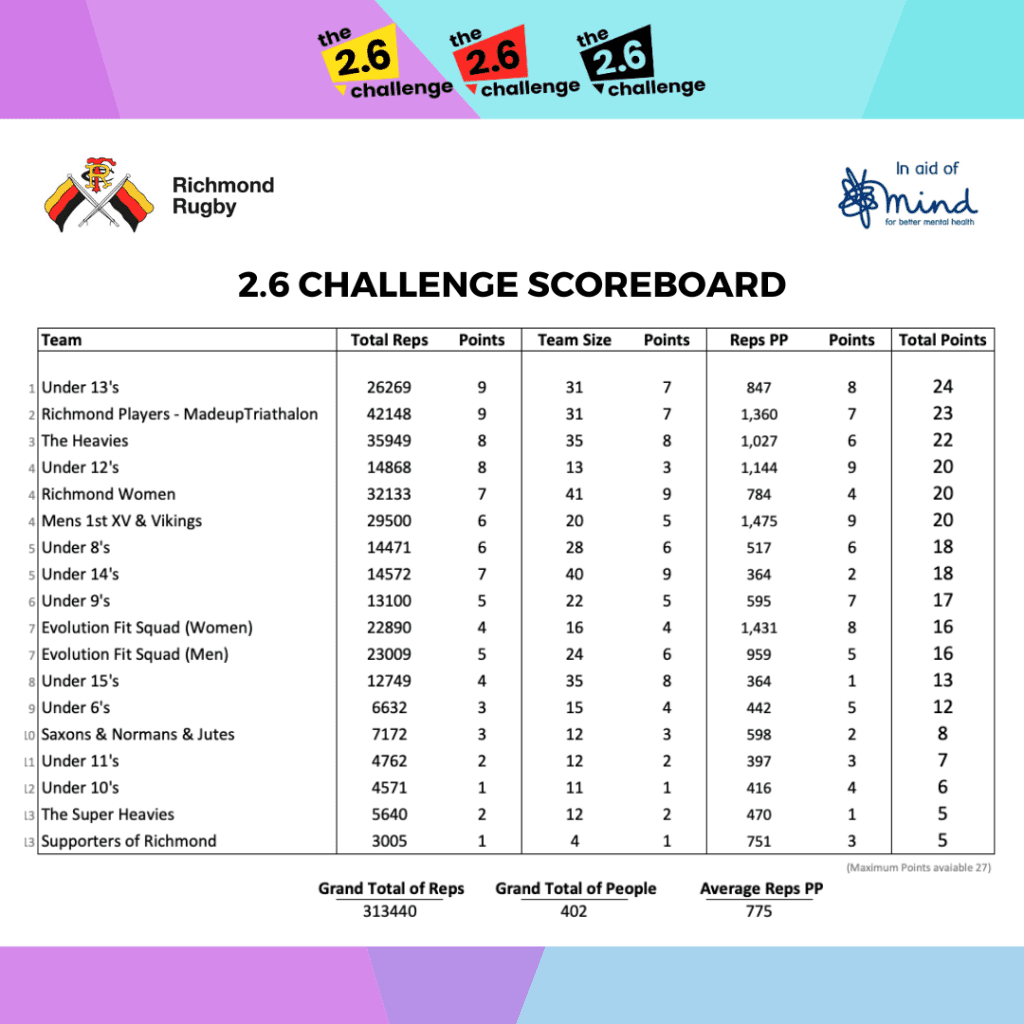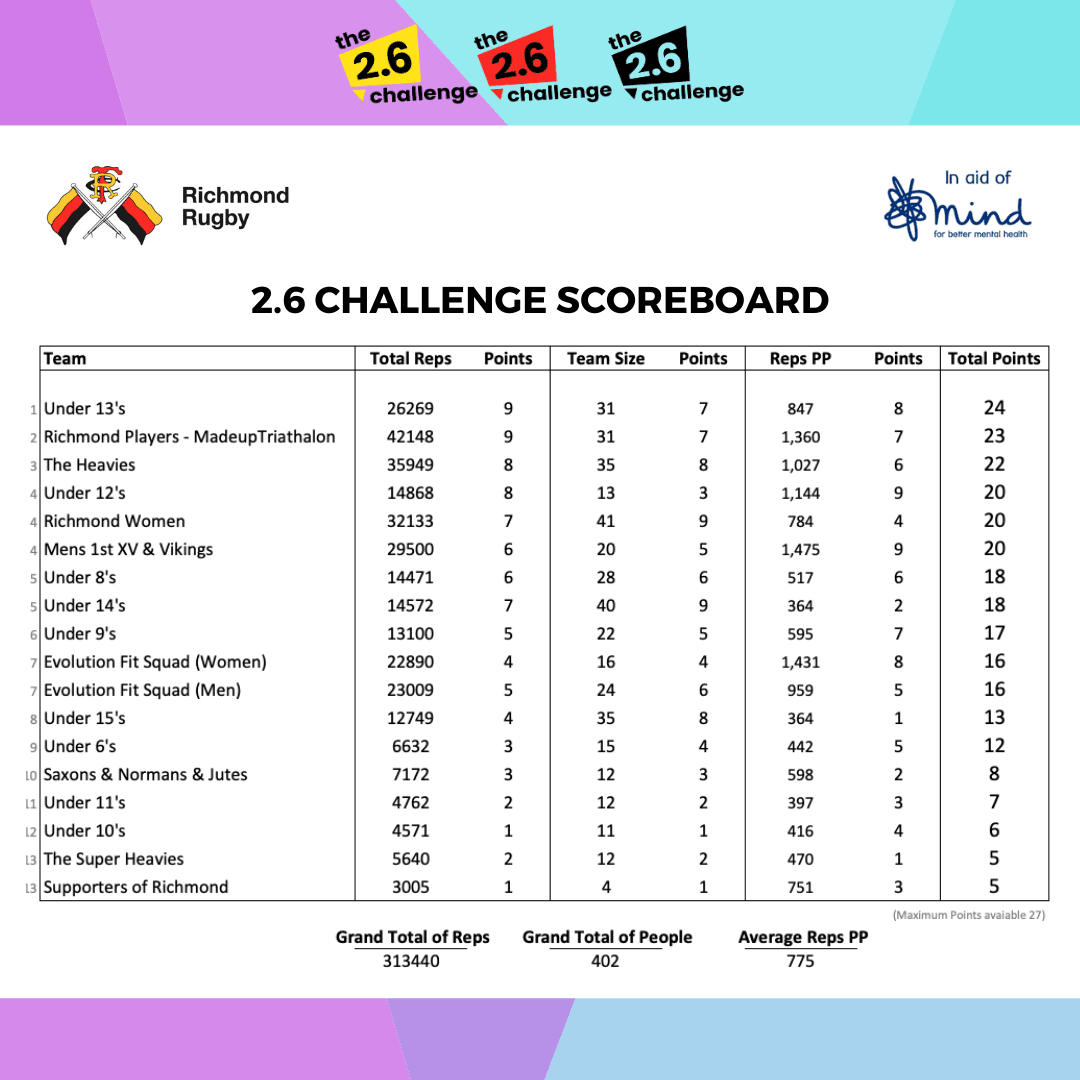 ---
But what was the 2.6 Challenge?
To celebrate the launch of the Club's Mental Wellbeing programme to all members and players (click here if you missed it), and do something a bit of fun to bring all at the Club that little bit more together, we are challenging all members, players and their families to join us in the 2.6 Challenge this coming Sunday 26th April.
What is the 2.6 Challenge? The 2.6 Challenge is a nationwide challenge initiative taking next Sunday 26th April (which would have been the date of the London Marathon) to raise both awareness and funds for UK charities. Please visit https://www.twopointsixchallenge.co.uk/ for more details.
What is our version of the 2.6 Challenge? Designed by the Club's S&C partners, Arete Performance, our challenge is to do as many press-ups, sit ups, squats, star jumps and rows as you can do in 26 minutes. That's it.
This challenge is meant to be inclusive, so if you can't or don't like one of the exercises, that doesn't matter – just complete what you can in the 26 minutes … 2, 6, 26, 126, 260, 620, 2626 or whatever you can do please just get involved.
Who's involved? This is a #oneclub approach and we have recruited team 'captains' from all Sections of the Club: Click here for a list of team captains.
The Women, The Heavies, The 1st XV, The Ex-Players, The Saxons, The 'Super' Heavies, The Minis, The Normans, The Youth, The Supporters, The Jutes and The Vikings
We realise the senior team may be a little fitter than others, but this challenge is also to families, so if you are a mini or a youth get your parents and siblings involved and if you are Heavy get your kids involved. We think this handicap system will result in an interesting league placement!
Which charity are we supporting? Given our focus on Mental Wellbeing, we have therefore selected MIND, the UK's leading mental health charity. Click here to donate on our Just Giving page.
When is the 2.6 Challenge? The 2.6 Challenge will take place at 2pm on Sunday 26th April.
Do we have a 2.6 Challenge target? As a Club, it would be great to all combine together and do 26,385 reps – aka the marathon distance – in total!
So please get involved, sign up to your team captains and on Sunday lets join as a club and as a country and do the 2.6 Challenge to help save the UK's charities.
If you have any questions about the 2.6 Challenge, do not hesitate to get in touch with the organising team @ [email protected] or your team captain.
" a club that plays and supports together, stays together "